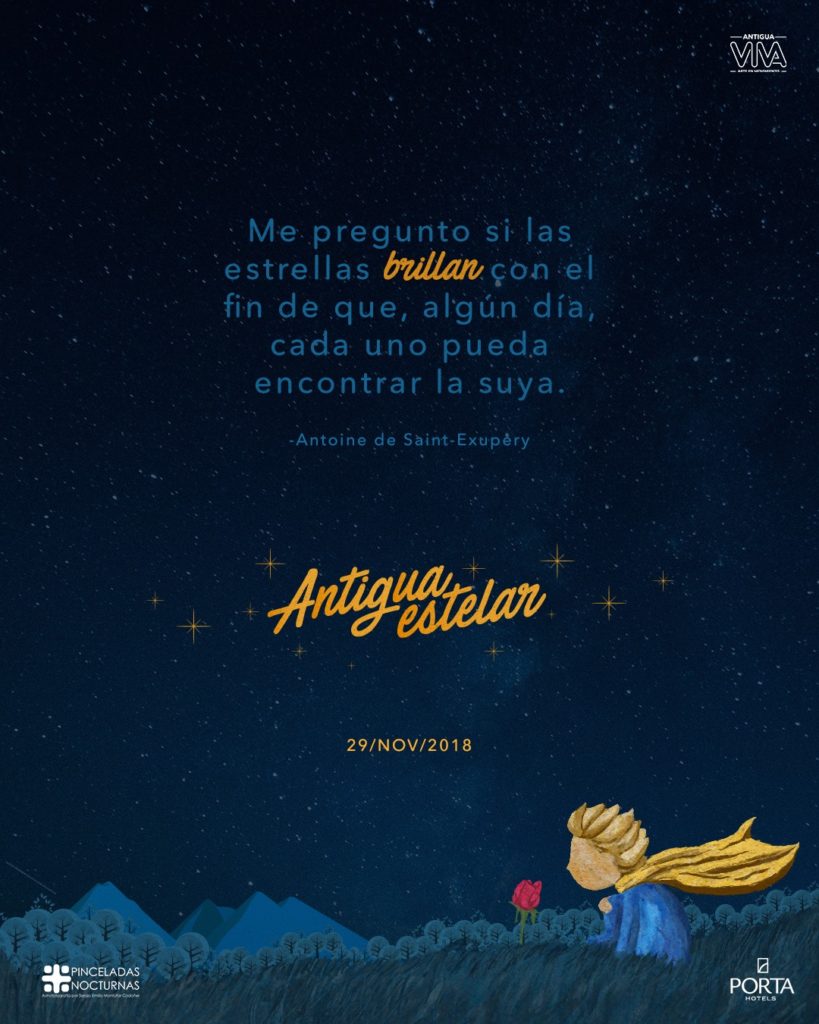 In the search for the preservation of the dark night sky and avoid light pollution to the maximum, Antigua Estelar is born, a space where we discover a new night in La Antigua Guatemala UNESCO Heritage Site with the immensity of the universe.
The lightsout, occurs in the enigmatic "Calle del Arco" of La Antigua Guatemala, for 45 minutes, voluntarily, we turn off 5.5 blocks of artificial lights to have the unique opportunity to perceive the city in the dark and thus demonstrate the negative impact of light pollution, and if it is clear, to admire the starry night sky.
We have the best in star guides that include members of different groups of amateur and professional astronomers who give us a stellar tour, showing us the wonders that hide in the night sky.
*********
En la búsqueda de la preservación del cielo nocturno oscuro y evitar al máximo la contaminación lumínica, nace Antigua Estelar, un espacio en donde descubrimos una nueva noche en La Antigua Guatemala con la inmensidad del universo.
El APAGÓN ESTELAR,  ocurre en la enigmática "Calle del Arco" de La Antigua Guatemala, por 45 minutos, voluntariamente,  apagamos 5.5 cuadras de luces artificiales para tener la oportunidad única de percibir la ciudad a oscuras y de esa manera evidenciar el impacto negativo de la contaminación lumínica, y si está despejado, poder admirar el cielo nocturno estrellado.
Contamos con lo mejor en guías estelares que incluyen miembros de diferentes grupos de astrónomos aficionados y profesionales que nos darán un recorrido estelar, enseñándonos las maravillas que se esconden en el cielo nocturno.